Welcome to our bi-weekly podcast where we aim to empower people to express themselves through speech! In each episode, we will seek to speak about ways to better verbalize ourselves and our stories. We will also have topical interview sessions with special guests and share select speaking tips, useful for the casual and competitive speaker.
Episode 3, Season 2
Kondenser and Podkast.my is a BM podcast as well a portal all about the production and publication of podcasting. Irzal is the executive producer of Impressions, a digital content centre, and editor for Podcast.my while Akash is the studio director and content creator. If you're curious about the local podcasting scene and want to start up your own podcast – this episode is not to be missed!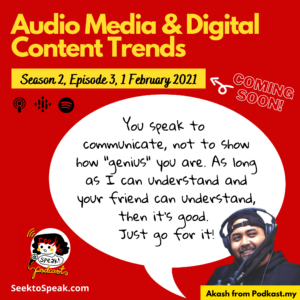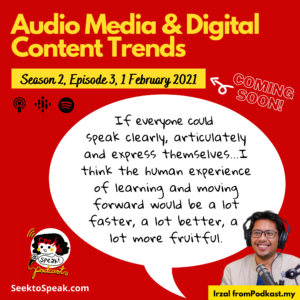 We also discussed the following facts during the episode:
A total of 834,533 new podcasts were created in 2020, compared to 311,775 in 2019 according to statistics from Listen Notes.

Most podcasts are in English, followed by Spanish and thereafter, Portuguese. Podcasts in Bahasa Malaysia are listed in "others". The Listen Notes portal shows that there are 83,006 podcasts in the nearest language, which is Indonesian. Buzzsprout reports that only 0.2 percent of total podcast episodes were downloaded by Malaysians in October 2020.

According to a report by Whistle Wise, Generation Z prefers short, unscripted and casual podcast formats. Why do you think this is the case?
Relevant Links:
https://www.youtube.com/channel/UCAEz0rHq6m_ZL7g7Zr8-asg