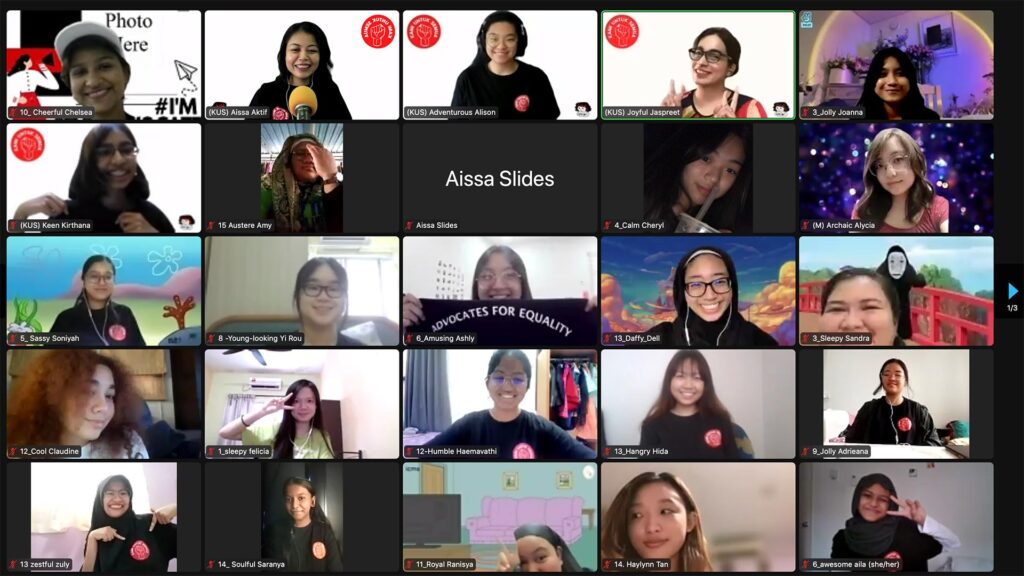 Our program, KAMI untuk SEMUA, hopes to empower 100 Malaysian female students to be self-advocates and change-makers through capacity-building workshops on dignity and equality, confident communication, mental resilience as well as community advocacy. Supported by a vibrant ecosystem of trained professionals and facilitators, participants then create their own advocacy campaigns as part of our pay-it-forward initiative. The best campaigns will then be awarded small grants to promote the future empowerment and protection of our youths.
In 2022, we became the recipient of YSEALI's Seeds for the Future Grant and implemented KAMI untuk SEMUA online. Between the months of April to October 2022, we recruited 29 volunteers, collaborated with 17 partners and held 7 events. We received 134 sign-ups for our program and eventually selected 77 participants from 10 different states to be our online cohort. Our participants were later exposed to 4 online workshops and created their own campaigns, 5 of which won RM2000 in grant funding each. We currently have 11 campaigns up and running tackling a variety of gender equality issues such as child grooming, female migrant workers, and casual sexism.
In 2023, we would like the number of participants increased to 100 students from all 14 states and for 20 advocacy campaigns to be produced. We plan to recruit 30 students for our in-person camp and 70 students for our online program, spread across several sessions. We would require funding, volunteers, and subject matter experts to replicate this project. Collaborate with us to make this dream a reality!